Upload Image to Email Template
Adding images to your email templates is a great way to stand out and maintain a professional look. If your email signature contains an image, you want to have a company header, or just want to post an image in an email, follow this article to find out how to customize your template as desired.
Note: The image source has to be posted online, not solely on your local hard drive. If you have an image that you would like to upload and use, view our Add File to Document Library article.
Add Image to Template
Log in to VanillaSoft as an Admin.
From the Admin side, select the desired project.
Open the Email, SMS & Docs tab at the top and select the Email Templates section.
In the Manage Selected Email Template section, select the template you would like to modify.
Now in the HTML Body section, select where you want the image.
Click the Insert Image icon, a new window will open.
Paste the Image Source, any desired description, and set the dimensions (only the source is required).
Once everything has been entered, click Ok.
Make any other desired changes to the template and once done, click Save.
(steps 5-8)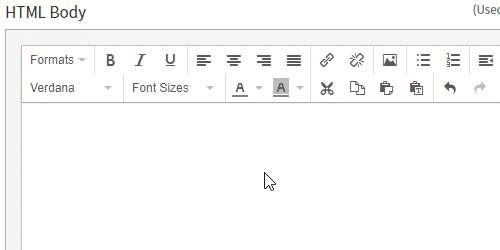 If you're not sure how to grab the image URL, take a look at our Copy Source URL article.