What is My VanillaSoft VoIP Number?
If you are unsure what your VanillaSoft VoIP number is, you can find this information in your user profile. Knowing your VoIP number is needed for logging in to VS Connect and making calls. If you have yet to install VS Connect, you can do so by following our Download and Install VS Connect article. Each user can have a maximum of 1 line assigned to them. If more than 1 line is needed, you will need to create a separate user in order to use a second line.
Find Your VoIP Number
Log in to VanillaSoft.
Click on your username in the top-right corner.
Open the Dialing Info section.
View your number that is listed in the ConnectMeVoice Number section.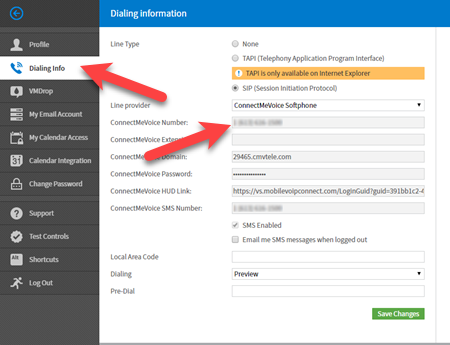 Note: If you do not see the Dialing Info section, this is because your Admin has restricted access to this section. You would need to reach out to your Admin to get further assistance.
You may also need to know your Access Code. If so, you can take a look at our How to Find or Change Access Code article for more information.