Unable to Log In to VanillaSoft
If you are unable to log in to VanillaSoft, it could be caused by one of several reasons. This article lists potential causes and steps needed to resolve for not being able to log in to VanillaSoft. If you are unable to log in to VS Connect, follow the steps listed in our Unable to Log In to VS Connect article.
Note: Your username is your email address. If you only have Caller access, your Admin may have changed your username due to FCC/CRTC Regulations. You may need to reach out to your Admin to verify what email address is used for your username.
First Time Logging In
If you have just signed up for VanillaSoft, and this is the first time you are trying to log in, there is a chance that both your username and password are the email address you used to register. Enter your email address in both the username and password fields and try to log in.
Note: Passwords are case-sensitive. If you used capital letters in your email address while registering, you must enter your email address the same way when using it as a password.
Forgot Your Password
If this is not your first time logging in, or using your email address as your password doesn't work, then you can try resetting your password by following these steps:
Go to the VanillaSoft Login page.
Select the Forgot Your Password link (shown below).
Enter your current username and click Reset My Password.
Check your email as a temporary password will be sent to you.
Go back to the VanillaSoft Login page.
Enter your current username and the temporary password that was sent to you, then click Login.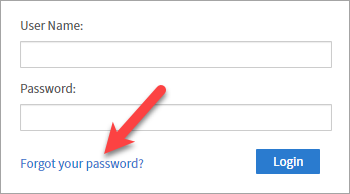 Note I: The temporary password email will be sent to the email address listed in your Email field. This may not necessarily be the same as your username's email address. You would need to verify what address is listed with your Admin.
Note II: If the temporary password doesn't work when you copy and paste, try typing the password manually. Sometimes the copying process adds a hidden space/character at the end which would make the password not match.
Note III: If you don't receive the email in your inbox, your email server/filter may have sent it to your spam/junk folder. Check your spam/junk folder for an email from noreply@vanillasoft.com with the subject of "You requested a new VanillaSoft Password".
New Location
Your Admin may have IP Restrictions in place for security purposes. If you are trying to log in from a new location, you may need to have your IP address added to the Allowed IP Addresses list or have your username added to the Users with no IP Restrictions list. To verify if this is the case, you would need to reach out to your Admin.
Contact Technical Support
If none of the above steps allow you to log in, there might be an issue with your account. It would be best to reach out to our Technical Support department at this time to have one of the representatives take a look at your account and determine the cause. You can reach Technical Support by any of the methods listed in our Contact Technical Support article.