VanillaSoft Zapier Migration
With the update to Zapier's back-end technology, many vendors - including VanillaSoft - have had to update and re-release their Zapier apps to meet the new standards.
The new VanillaSoft app brings the following changes:
The app is now publicly available from the Zapier Apps website.
All Zap settings are now managed entirely from within the VanillaSoft app in Zapier. There is no need to configure triggers in VanillaSoft as in the previous version.
Why Beta?
The VanillaSoft app may appear to you with a "BETA" tag. The "BETA" tag is applied by Zapier to all new apps until there is a minimum of 50 users on the app.
How to determine which version of the app you are using?
The logo of the legacy VanillaSoft app is square. The new app logo is round.
| | |
| --- | --- |
| Legacy App Icon | New App Icon |
| | |
Note: There is another Zapier app from a company called "Vanilla Forums" or "Vanilla," which has a very similar app icon shown below. Please do not be confused.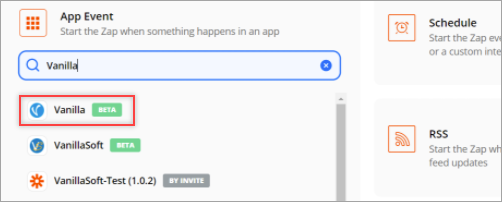 How to Recreate Zaps in the new VanillaSoft Zapier App
There is no way to copy or migrate Zaps from the old app to the new app. You must recreate each Zap separately.
Best Practice Recommendations
We recommend that you keep your old Zaps active until the new replacement Zaps have been created.
When recreating your Zaps, we recommend opening the legacy integrations at the same time in a separate window to use as a point of reference. Having both windows open will also help simplify the process of deactivating the old Zaps before activating the new Zaps.
When creating new Zaps, we recommend including the creation date or the word "New" in the Zap's name to prevent any possible confusion with your old Zaps.
Recreating Zaps
Before recreating new Zaps, you should know which VanillaSoft integration key to use. More information on integration keys can be found in our Integrating Zapier with VanillaSoft article.
From your Zapier account, click Create Zap.
Follow the prompts to set up the new Zap. Reference your old Zap where required.
Once you recreate the new Zap, you can deactivate the old Zap before activating the new Zap. Do not delete the old Zap.

Please note that it is not possible to recover deleted Zaps from the legacy app. We recommend keeping the legacy Zaps until you are confident the new version is working correctly.

When the old Zap is deactivated, activate the new Zap.
Keep the old Zaps until you test and verify there are no issues with the new Zaps.
Once the new recreated Zap shows the expected results, it is safe to delete your old Zaps.