Setup a Project-based CallerID to show the same CallerID for all callers working out of the same Project. This allows you to set up different CallerID's for different Projects and applying the changes to all Callers without having to configure each individual profile.
Note: You must use VanillaSoft VoIP in order for this to function properly. If you use a different VoIP provider, this configuration may not work properly.
Configure Project-Based CallerID
Log in to VanillaSoft as an Admin.
Select the desired Project.
Click on Dialing & Recording from the menu at the top.
In the

Dialing Prefix field, enter *13[desired 10-digit CallerID]*

Once done, click Save.
As an example, to have the CallerID of 972-200-0179, the Dialing Prefix would look like this: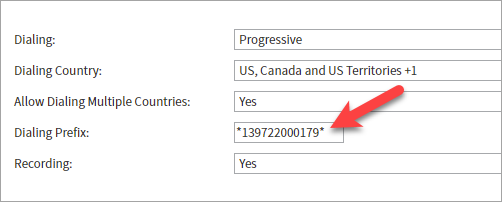 Now when anyone calls from this Project, the CallerID that will be shown will be what you entered. This will apply to any outbound call from this Project.