Salesforce Integrations Overview
In a simplified sales process you find prospective customers, engage with them to make a sale, and then manage and retain them.
You are using VanillaSoft's sales engagement platform to give your sales team the tools they need to engage, qualify and close the sale. Once you have made the sale, you will need to manage your customer. If you are here it is because you are using Salesforce for your customer management needs.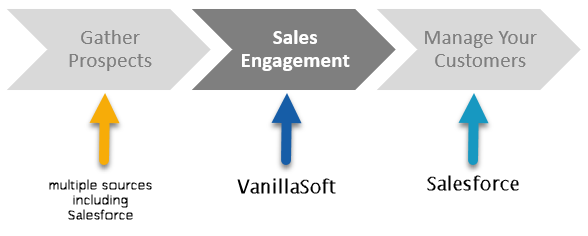 At its heart, Salesforce is a customer relationship management (CRM) tool that gives a company a shared view of its customers with one integrated CRM platform. It focuses on helping customers with customer retention, keeping customers happy, seeking out and executing customer acquisition and giving companies insight into their customers ... and much more. Because Salesforce can do so much it can become a bit overwhelming for the average user to manage all of the activities associated with engaging with perspective customers.
VanillaSoft Integrations allow you to connect to your Salesforce account and use the tools from each platform to acquire and retain your customers a whole lot easier. By connecting your VanillaSoft and Salesforce accounts you can import Leads or Contacts to and from Salesforce. You can keep Salesforce up-to-date with tasks nd events and customer data. Our VanillaSoft Salesforce integrations allow you to spend a fraction of the time keeping up with your Salesforce account.
Now you just need to decide what types of integrations you would like to do. You can do both!
VanillaSoft to Salesforce Integrations

Create multiple integrations per project based on Result Codes.
Each integration (per project) could have one or more result codes.
You can map VanillaSoft data to Salesforce Leads, Contacts, Opportunities and Accounts. In addition, you can create tasks or events in Salesforce based on call-backs or appointments in VanillaSoft, or just send all of the VanillaSoft activity history.
Result a Call and the data is immediately (Real Time) sent to Salesforce.
Salesforce to VanillaSoft Integrations

This requires the installation of our "VanillaSoft Unite for Salesforce App" from the Salesforce AppExchange.
Create multiple Real Time or Batch integrations inside Salesforce.
Real Time integrations send data to VanillaSoft based on triggers you define. Triggers can be identified in Lead, Contact and Opportunity objects. Once a trigger is "fired" the data gets sent to VanillaSoft immediately.
Batch integrations will send data to VanillaSoft on-demand. The data sent is tied to a Campaign.
You can map Salesforce fields to VanillaSoft fields.
And ... you can manage your VanillaSoft to Salesforce integrations inside Salesforce.
---