Salesforce to VanillaSoft Integrations Overview
If you would like to send data from Salesforce to VanillaSoft, you need to install our free VanillaSoft Unite app found in the Salesforce AppExchange. With this app installed inside Salesforce, you can:
Create multiple Real Time or Batch integrations inside Salesforce.
Real Time integrations send data to VanillaSoft based on triggers you define. Triggers can be identified in Lead, Contact and Opportunity objects. Once a trigger is "fired" the data gets sent to VanillaSoft immediately.
Batch integrations will send data to VanillaSoft on-demand. The data sent is tied to a Salesforce Campaign.
You can map Salesforce fields to VanillaSoft fields.
And ... you can manage your VanillaSoft to Salesforce integrations inside Salesforce.
How does this all work?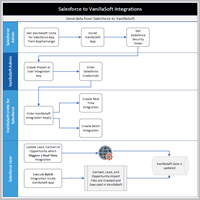 Click on image above to view it full-size.
How do I create an Integration?
---